Click
here
for a video recording of this online CLGS event!
CLGS has a rich tradition of creating dialogues and curriculums for communities of color intersecting queer identity and religious faith.  In our first Lavender Lunch of 2023-2024 we welcome Shenaaz Janmohamed and Ramish Nadeem who share with us their experiences of working for LGBTQ equality from a Muslim perspective.
---
Shenaaz Janmohamed  (she/they) is the Founding Executive Director of Queer Crescent and a Khoja Shia Muslim nonbinary femme parent, healing practitioner and cultural worker. From 2012 – 2022 she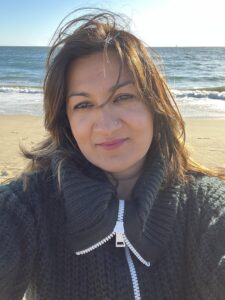 worked as a high school mental health counselor, supporting youth of color while also maintaining a therapy private practice for BIPOC, LGBTQ folks, educators and organizers. Shenaaz has worked at the intersections of gendered violence, anti-Muslim racism and the surveillance of bodies through survivor advocacy, community organizing and trauma recovery. Prior, she played multiple roles within the domestic and sexual violence prevention field, focussing on immigrant, and Muslim, communities in particular. Shenaaz has been awarded the American Muslim Civic Leaders Fellowship in 2008, Move to End Violence Movement Makers in 2021, and currently serves on the Resist Foundation Grant Review Panel. Raised with a strong Shia political identity, Shenaaz learned about the multiplicity and nuance of Muslim cultures through experiences of erasure, resistance and ritual. It is from this lineage that she struggles to expand who is seen and included in Muslim narratives, centering the impacted and targeted.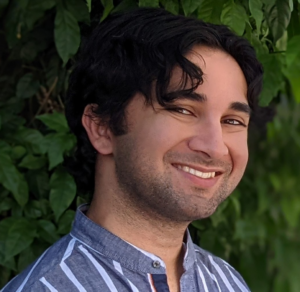 Ramish Nadeem is a young Muslim organizer who oversees the Muslim youth Leadership Council (MyLC) and the Youth Advocate, Agitate Project (YAAP) in his work as Program Manager of International and Muslim Youth Advocacy at Advocates for Youth. MyLC, a a groundbreaking and radically welcoming project that brings together Muslim young people from across the country, united in challenging Islamophobia in the U.S., creating safe and supportive spaces for LGBTQ Muslim youth, and advocating for inclusion of young Muslims in Reproductive Justice programming and promotion of health and rights. MyLC also hosts the #MuslimAnd campaign.
---
This CLGS event was recorded on 20 September 2023