As part of the Center's work in fostering and promoting the latest research and scholarship in LGBTQ-related religious concerns, CLGS hosts two lectures during the academic year – the Georgia Harkness Lecture in the fall and the John E. Boswell Lecture in the spring.  These lectures are free and open to the public. Unless otherwise noted, all lectures take place on the campus of Pacific School of Religion Campus in Berkeley, California.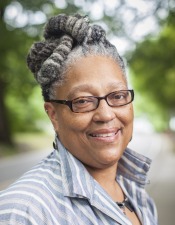 Ninth Annual Boswell Lecture with Rev. Dr. Emilie Townes
April 21, 2016 at 6:30pm in the Pacific School of Religion Chapel
Join CLGS at Pacific School of Religion for the Ninth Annual Boswell Lecture, delivered by Rev. Dr. Emilie M. Townes on Thursday, April 21, 2016. The Rev. Dr. Emilie M. Townes, a distinguished scholar and leader in theological education, is dean of Vanderbilt Divinity School. She is also the E. Rhodes and Leona B. Carpenter Professor of Womanist Ethics and Society. More details about the lecture can be found here. 

Visit the Lectures & Scholarship section of our Resources page to view videos of our previous lectures and download pdfs.