Click here to view a video recording of this online CLGS Event!
In this CLGS Asian American/Pacific Islander Roundtable APIRT workshop we focus on inner spiritual landscaping and explore the textures, sensations, sacred experiences connected with our inner landscapes as a form of compassionate queer altar making. 
---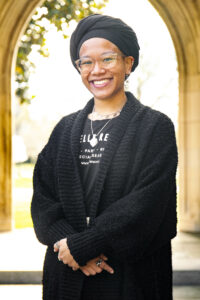 Maij Vu Mai (they/he/sib/homie/fam, M.Div) currently serves as the Asian/American and Pacific Islander Roundtable Coordinator at the Center for LGBTQ and Gender Studies in Religion at the Pacific School of Religion.
Maij is a Black Asian Trans Queer Neurodivergent MaGe who is devoted to creating radical healing spaces where marginalized folks (primarily Queer & Trans/Gender Expansive folks, Black folks, Folks of Color, Disabled folks, Neurodivergent/ expansive folks, & Sensuality Practitioners) can tap into their own alchemical power and knowledge ecosystems.
A creative visionary, organizer, and liberation companion from the South, their soul work centers the bodies, voices, and lived experiences of oppressed peoples striving to transform their imaginations and worlds.
---
This CLGS Event was recorded on 6 June 2023